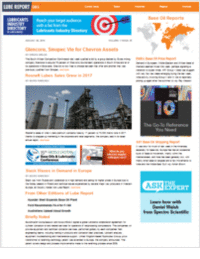 Lube Report EMEA
Launching in January of 2018, Lube Report EMEA is a free weekly e-newsletter covering the lubricant industry in Europe, the Middle East and Africa.
Emailed to subscribers, every issue features focused editorial content specific to the region, the relevant regional base oil price report and breaking news. Topics covered are: finished lubricants, base oils, additives and packaging, along with trends in automotive, manufacturing and other key industries.

Independent and informed regional reporting helps industry professionals keep up with events and know what to make of them.