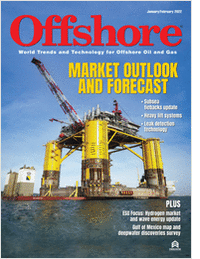 Offshore
Is the leading monthly information source for offshore oil and gas operations and deep offshore markets.
Offshore provides a rich editorial blend of international news and technology for marine/offshore operations around the world. Topics covered include seismic services, exploration, drilling, production, processing, pipelining, operating problems and design solutions.

Advertising Professionals: Offshore is pleased to provide subscriptions to advertising professionals who wish to consider the magazine for advertising campaigns. Email ronk@pennwell.com to request your subscription.