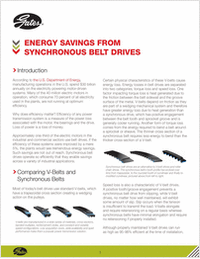 Energy Savings from Synchronous Belt Drives
V-Belt Drive to Synchronous Belt Drive Conversions Saved Reichhold, Inc. $34,000 per Year.
Approximately one-third of the electric motors in the industrial and commercial sectors use belt drives. If the efficiency of these systems were improved by just 5%, plants would realize tremendous energy savings. Such savings are not out of reach. Synchronous belt drives operate so efficiently that they enable savings across countless applications. Download the white paper and case study.