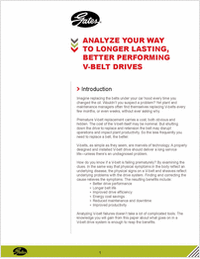 Longer Lasting, Better Performing V-Belt Drives
Learn the Signs of Premature Belt Failure to Prevent Downtime & Save Costs.
Premature V-belt replacement carries a cost. While the belt itself might not be a major expense, shutting down the drive for retensioning or replacement disrupts operations and plant productivity. Learn the common factors affecting V-belt life and signs of abnormal belt wear, so you can take the corrective actions that improve drive performance and lead to longer belt life.