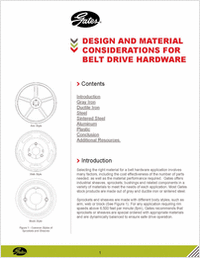 Design and Material Considerations for Belt Drive Hardware
Choose the Right Sheaves, Sprockets, Bushings & Other Components for Your Application.
Selecting the right hardware components for your belt drive application involves many factors, including cost effectiveness and the material performance required. From gray and ductile iron to sintered steel and aluminum, know what's right for your application. Learn about Gates stock materials and Made-To-Order service for non-standard power transmission hardware.