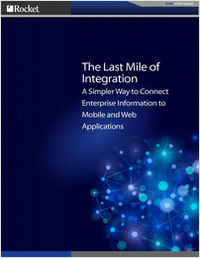 Discover the Fast and Low Risk Way to Integrate Enterprise Applications
Most application integration solutions fall short at the last mile of integration: integrating with business-critical enterprise applications running on mainframe and midrange systems (IBM i, UNIX).
Discover the low risk, fast time-to-market way to integrate with your mission-critical applications in this white paper. Highlights of this free white paper:
Find out how to make enterprise applications compatible with your mobile and web initiatives
Discover how to quickly and easily develop web services and APIs from new and legacy enterprise applications and data
Gain insight from real-world enterprise integration projects in insurance, financial services, media, and higher education
Learn how to rapidly integrate applications with less cost, time, and risk than other methods
Download this free white paper to learn more now!