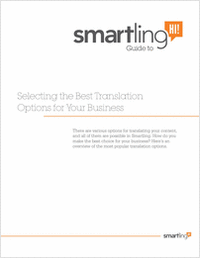 Selecting the Best Translation Options for Your Business
There are various options for translating your content, and all of them are possible in Smartling.
How do you make the best choice for your business? This white paper overviews the top 8 most popular translation options and the cost and benefits of each.

Smartling, Inc. simplifies and accelerates translation and localization for companies reaching a global market. With the first cloud-based enterprise platform for translation management, Smartling helps companies quickly translate and deploy their websites and dynamic Web applications, mobile applications and business documents across the entire corporate digital infrastructure.