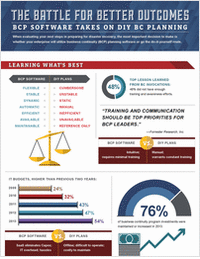 BCP Software vs. DIY: How to Make the Most Important Decision in Business Continuity Planning
Enterprises are realizing they need a more robust and dynamic toolset rather than relying solely on the static spreadsheet DIY approach when implementing Business Continuity and Disaster Recovery plans (BC/DR).
Learn why and what you need to take into account to ensure resiliency by downloading this infographic. We take a revealing look at the pros and cons of business continuity planning software vs. the do-it-yourself options available and help you make a case for a solution that provides increased confidence and better outcomes.