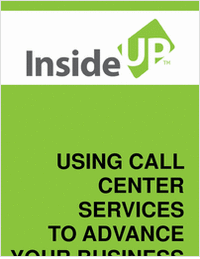 What to Look for in a Call Center: A Free Guide on Making the Right Choice
These days it seems nearly every business, whether large or small, is using a call center. Does your business need one, and if so, how do you choose the right type of call center to fulfill your needs?
The purpose of this guide is to answer your questions about call centers, what types of services they perform, which of the various types of call centers your business might need, and how to select the ideal call center for your business. InsideUp will address the various Call Center Types, How to Select Vendor, Offshore vs. Onshore and much more.
This guide will help you better understand the many benefits of Call Center companies while providing you with free price quotes from several Call Center providers by phone or email.