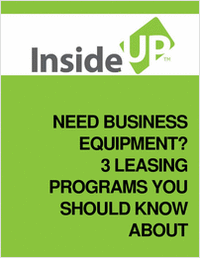 Need Business Equipment? 3 Leasing Programs You Should Know About
What are the advantages and disadvantages of leasing equipment for your business? Should you deal directly with the manufacturer or with an equipment leasing agent? What are some common mistakes businesses make when leasing equipment?
This guide provides you with a concise list of questions to ask and problems to avoid when leasing equipment for your business.
To better understand your options, they'll also provide you with complimentary, no-obligation price quotes from top Business Equipment Leasing vendors based on your specific needs so that you'd be able to better compare the choices available to you.