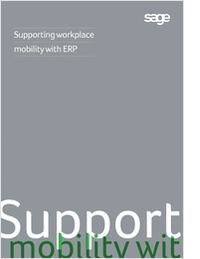 Supporting Workplace Mobility with ERP
For mid-sized businesses, quick and secure access to real-time business information via mobile devices will become an enabler for modern commerce.
Mapping business processes via mobile Enterprise Resource Planning (ERP) is crucial for mid-size businesses tasked with equipping management and staff with crucial insight and company information on the go. ERP has become regarded as a "mission-critical investment" for CIOs although the benefits of having integrated solutions to manage business processes are becoming apparent in most departments of the company.

Download this white paper to see how your organisation can support workplace mobility with ERP.