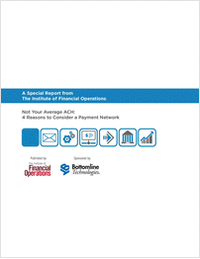 4 Ways Payment Networks are Changing the Game for AP Departments
If you're one of the 65% of companies still using checks as your primary payment method, you know that it's only a matter of time before you implement some sort of payment automation solution. And the sooner you do it, the faster you can reap the tremendous benefits AP automation has to offer, including significantly decreased costs.
Read this special report from The Institute of Financial Operations (IOFM) and find out:
How your organization fits into the current payments landscape.
Details on the top barriers to ePayment adoption.
How a payment network can help you tackle these challenges.
Read the report now.