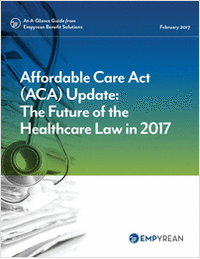 Affordable Care Act (ACA) Update: The Future of the Healthcare Law in 2017
Improve your 2017 strategy with valuable and proven tips from the first ACA reporting experience.
The ACA will inevitably change under President Trump's administration – but how will this affect you? As the law is unraveled, employers must be ready to meet current regulations while keeping up with evolving requirements.

This guide will help you meet your 2016 ACA reporting requirements and gain a deeper understanding of changes on the horizon, so you can inform your compliance strategy and stay ahead of the curve.

You can achieve consistent compliance without getting overwhelmed. Download this guide to learn to minimize risk, alleviate burdens, and confidently maintain compliance now and in the future.