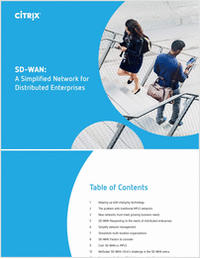 SD-WAN: A Simplified Network for Distributed Enterprises
In the last decade, two major technology trends have converged and are set to have a significant effect on corporate networks: virtual computing and the rise of cloud technology.
The emergence of new technologies has meant that network traffic in distributed organizations is manipulated in new ways. Enterprises need an intelligent network that can adapt accordingly.
This resource includes:
Keeping up with changing technology
The problem with traditional multiprotocol label switching (MPLS) networks and the key to new networks
How SD-WAN is responding to the needs of distributed enterprises
How to simplify network management and streamline multi-location organizations
Case Study
The necessity for more bandwidth, more latency-sensitive applications, and more reliance on network availability and quality has never been more critical.