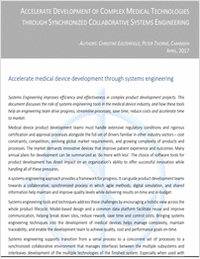 Accelerating Development of Complex Medical Technologies through Synchronized Collaborative Systems Engineering
This resource discusses the role of systems engineering tools in the medical device industry, and how these tools help an engineering team drive progress, streamline processes, save time, reduce costs and accelerate time to market.
Medical device manufacturers need to be at the forefront of their markets in developing highly competitive products that have high value and meet patient, healthcare provider, regulatory and payer needs.
This resource covers:
Addressing the challenges
Using systems engineering to improve workflow
Synchronized collaborative systems engineering and medical device development
Evolving the development approach
The case for synchronized collaborative systems engineering
See how this approach can help you address increasing complexities, improve patient experience and deliver reliable products on time and to cost.