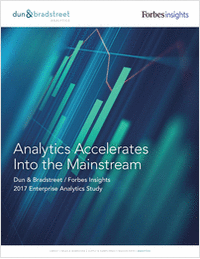 Analytics Accelerates Into the Mainstream
In March 2017, Dun & Bradstreet and Forbes Insights explored the current state of analytics adoption across the enterprise. We wanted to understand how companies perceive themselves as "analytically driven enterprises" and better understand their challenges and success to becoming so.
The study surveyed a diverse cross-section of business professionals about their analytics deployment and strategy. This report summarizes key insights based on what the respondents say are shaping the implementation and adoption of analytics initiatives. The report also highlights what key functions are doing to evolve their insights as analytics continues to be adopted across the enterprise.