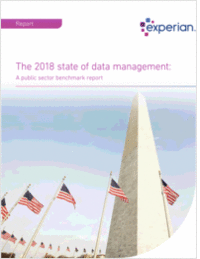 The 2018 state of data management: A public sector benchmark report
87 percent of agencies consider data one of their greatest strategic assets. How important is your data to you?
Experian recently surveyed 200 public sector professionals to learn about the state of data management in the U.S. public sector. If you've ever wondered how your data management practices stack up against your peers, check out our report! We highlight the challenges and successes that government agencies like yours face as they strive to effectively leverage their data.
Download the report to learn key findings related to:
Data in the digital age
Public sector vs private sector
Popular data management projects for 2018