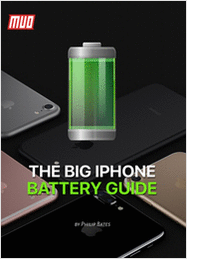 The Big iPhone Battery Guide
By downloading this free guide, you agree to receive regular updates on the latest cool apps, product reviews, and giveaways from MakeUseOf.
Everybody worries about their smartphone batteries. You worry because you're down to 20%. You're troubled by the fact it's losing charge more rapidly than before. Fortunately, MakeUseOf is here for you.
We'll guide you through what your iPhone battery actually is; how you can physically care for it; how to make sure your battery lasts longer; what to do when experiencing heat issues; what settings you should play around with; and more. Along the way, we'll answer your questions about improving percentage accuracy; what Low Power Mode is; if you should replace your battery; how extreme temperatures and moisture can affect its internal components; and how to safely store a battery long-term.