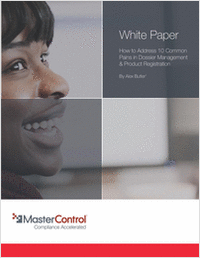 How to Address 10 Common Pains in Dossier Management & Product Registration
While the process for obtaining a device clearance or premarket approval (PMA) in the United States is not the same as applying for a Shonin in Japan or a CE mark in Europe, there are many similarities, especially when it comes to dossier management pains and challenges. The pains are worse for companies using a paper-based or hybrid (part electronic and part paper) system.
People say a picture is worth a thousand words. The 10 common pains in dossier management described in this white paper is worth 10,000 words given how much they affect the daily work of regulatory professionals and submission managers.