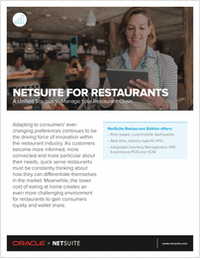 Recipe for Success: A Unified Solution to Manage Your Restaurant Chain
Download this white paper to learn how NetSuite's unified model can help restaurants optimize their strategy and leverage real-time visibility for insights into their business.
Adapting to consumers' ever-changing preferences continues to be the driving force of innovation within the restaurant industry. As customers become more informed, more connected and more particular about their needs, quick serve restaurants must be constantly thinking about how they can differentiate themselves in the market. Inefficiencies in back-office operations and aging and costly IT systems take time and resources away from propelling the business forward.