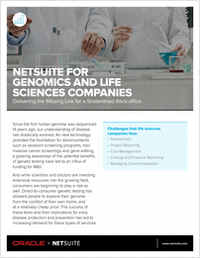 Delivering the Missing Link for a Streamlined Back-office
Download this white paper to learn how NetSuite can help life sciences companies stop wasting time and resources managing multiple data silos while leveraging real-time visibility for insights into their business.
As the genetic testing market takes off, many life sciences companies operating in the space are still confronted by financial challenges associated with such a highly-regulated industry. The path a company takes—whether going public or preparing for acquisition, for example—can create intense back-office complexities that may hinder its ability to keep up with demand and execute goals.