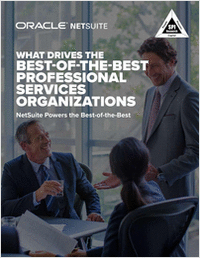 What Drives the Best-of-the-Best Professional Services Organizations
This white paper examines how leading service providers succeeded despite overall market turbulence.
Based on results from the tenth annual Professional Services Maturity™ benchmark survey, SPI Research has named the top twenty-one 2017 Best-of-the-Best professional services organizations.

The Best-of-the-Best excel across five critical service performance dimensions: leadership, client relationships, human capital alignment, service execution, and finance and operations. The Best-of-the-Best recognition is significant because it measures PSOs not only on bottom line financial results such as profit margins but also on a breadth of leadership metrics to reveal exceptional, holistic performance.