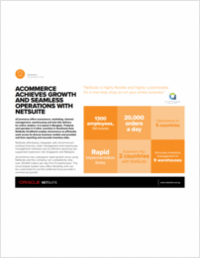 aCommerce Achieves Growth and Seamless Operations with NetSuite
Learn why NetSuite is a one stop shop to run your entire business.
aCommerce offers ecommerce, marketing, channel management, warehousing and last-mile delivery for online retailers. It is based in Bangkok, Thailand, and operates in 4 other countries in Southeast Asia. NetSuite OneWorld enables aCommerce to efficiently work across its diverse business models and provides real-time reporting and accurate inventory data.