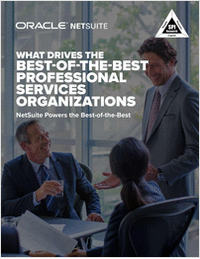 NetSuite Powers the Best-of- the Best Professional Services Organizations
Learn why the top Professional Services Organizations have all adopted NetSuite's ERP solutions.
One of the characteristics that differentiates this year's top performers is the emphasis they place on building unique, employee-centered cultures, supported by integrated business applications. They run predictable, profitable businesses because they have visibility to all facets of operations, ensuring collaboration around client opportunities. More than average firms, they are truly passionate about building an exceptional organization, not just for today, but for decades to come. They are willing to honestly look at themselves and the business and make changes to ensure they continue to be the premium firm. Their sterling reputation for delivering high quality results is a key ingredient in their success as most often new business comes from referrals.