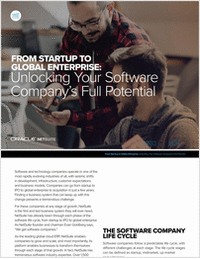 From Startup to Global Enterprise: Unlocking Your Software Company's Full Potential
Learn why NetSuite understands software companies.
Software and technology companies operate in one of the most rapidly evolving industries of all, with seismic shifts in development, infrastructure, customer expectations and business models. Companies can go from startup to IPO to global enterprise to acquisition in just a few years. Finding a business system that can keep up with this change presents a tremendous challenge.