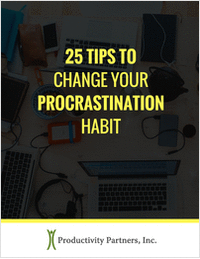 25 Tips to Change Your Procrastination Habit
Changing a habit that doesn't serve you is never easy, but it's always worth it.
Here's what you need to know before reading this resource:
The brain is hard-wired to add value.
Value is delivered to us through our thoughts.
Our thoughts become habit.
Each habit is determined by our choices. The choices dictate the behavior.
Behavior leads to our results and outcomes.
What we value is how we behave. Use this guide to create positive habit change.