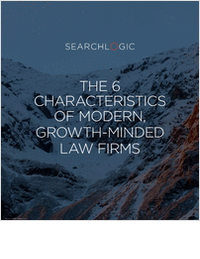 The 6 Characteristics of Modern Growth-Minded Law Firms
Learn how the fastest growing law firms are marketing themselves online and outperforming the competitors in their markets.
Law firms that prioritize digital marketing don't create growth in a vacuum. This eBook focuses on the foundation for growth-minded law firms that includes the support of the senior partner team, specific buyer personas, a modern and flexible website that's easily updated, analytics that provide accurate data, a mindset that's open to experimentation and testing, and an efficient qualification process for inbound leads.