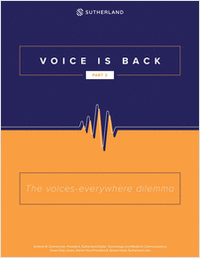 The Evolution of Voice Assistants Hinges on User Experience
Part 2 of a 3 part series exploring why voice tech is the future of customer experience.
The most interesting thing to consider about the digital voice evolution is the wide range of unexplored use cases still waiting to be discovered, both at home and in the office.
Download our white paper to understand the complexities of digital voice customer experiences and learn how to deal with unforeseen challenges.
Topics include:
Understanding the context of voice interactions
Unexpected friction when designing experiences for digital voice
Overcoming customer pain points