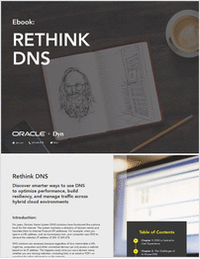 Rethink DNS for Speed, Reliability, and Security
DNS has evolved from a set-it and forget it solution into a mission-critical layer of your online infrastructure.
The capabilities of DNS go far beyond speeds, feeds and query resolution. Download this "Rethink DNS" eBook and discover smarter ways to use DNS to optimize performance, build resiliency and manage traffic across hybrid cloud environments.
This eBook covers:
Why DNS is central to the user experience
Costs and revenue impact of latency or outages
Risks and challenges of in-house and managed DNS services
Selecting the right DNS provider for your business